RPG / MMO
License: Proprietary
Cost: One-time purchase of retail box
Development status: Inactive
I'm a big fan of RPGs generally, especially multiplayer ones, but unfortunately the Linux world is not too well served in this department. A notable exception is the original Neverwinter Nights, which despite coming out several years ago, is still a great game, and has the advantage of running well on very low-end graphics hardware. It also has the huge advantage of having thousands of free modules available for download, some of which are as good as any commercially released RPG; and there are still hundreds of free online servers you can log into as well. As with many commercial games, buy the Windows version and
download the most recent Linux installer
to run it. Unfortunately it's not a simple task, but there's
a third-party installer
that might make things a little easier. You'll also need
the latest update patch
, which at the time of writing is 1.69 (which will almost certainly be the last one).
Do make sure to buy one of the "Deluxe", "Platinum" or "Diamond" bundles that includes the Shadows of Undrentide & Hordes of the Underdark expansions – they are much better than the original game module and you'll need them for online play. You can probably pick up a bundle version for under 10 bucks if you shop around online, so it's great value for money.
The only downside of this game is that the Toolset for creating your own modules does not work under Linux; and Neverwinter Nights 2 doesn't run at all. However you still do get a lot for your money, so if you're an RPG fan and on Linux, it's an essential purchase really.
---
License: Proprietary
Cost: None, but can buy premium items in-game
Development status: Active
A free-to-play MMO from Argentina that is starting to get some traction. It's an old school Dark Age of Camelot / Everquest style MMO, both in graphics and action. It's certainly not up to World of Warcraft standards, but on the other hand you're not paying out bucks every month just to log in. The early levels are a bit of a grind, and the monsters are a bit crap, but the PvP seems well thought out. There are currently four servers: two German, one Spanish, and one English. I actually really enjoy this game, and the price is right. The Linux client seems to be easy to install and runs well, which is a major bonus.
---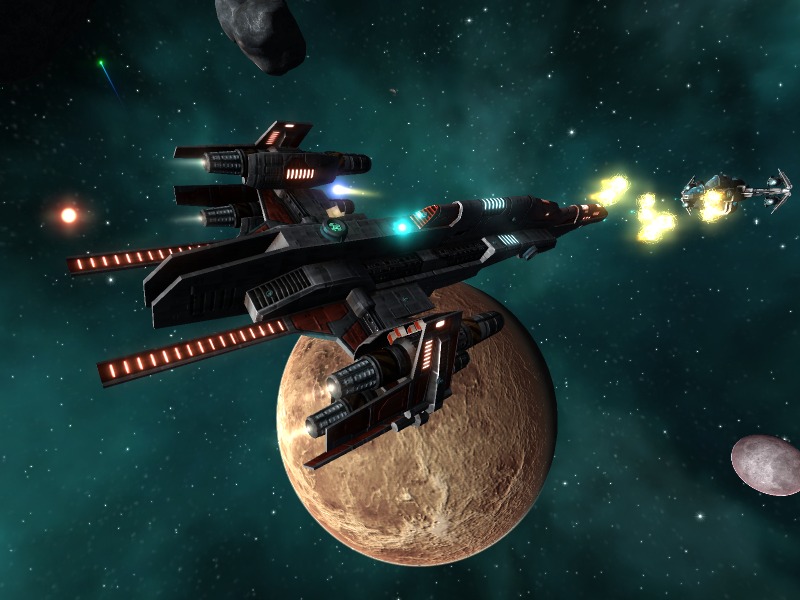 License: Proprietary
Cost: Subscription
Development status: Active
A space-based MMO that obviously owes a debt to EVE Online. This looks very good and isn't too expensive to play, and the developers (all four of them!) seem very passionate and responsive to the players. I need to spend a bit of time checking it out.
---
License: Proprietary
Cost: Subscription
Development status: Active
This one isn't a huge seller, but it's a solid and unique MMO that has gathered a fervent player base. It's based on life in ancient Egypt, and unlike most MMOs is not based on combat, but on trade and building achievements. As such it's a much more social game than most. It's also unique in that the game is completely reset and started again from scratch every 18 months or so – the current running game is Tale 4. The graphics are not state-of-the-art, but it does still manage to look rather pretty, thanks to the nicely rendered desert landscapes. Definitely not your average MMO, but if shooting monsters is not your thing, this might well be.
---
License: Proprietary
Cost: Online purchase per episode
Development status: Active
An episodic adventure game series from the fabulous people at
Penny Arcade
, this has been winning awards and plaudits from all over the place. 15 bucks unlocks each downloadable episode, and they promise to keep them coming natively on Linux. I haven't played this one myself yet, but if it's half as good as the comic it'll have you in stitches – these guys really
get what gaming is about
.
---
License: Proprietary
Cost: None, but Premium version available for a one-time payment online
Development status: Active
So you like First Person Shooters, but your friend likes RTS? Savage 2 is here to save the day. It's an online PvP game, with one player on each side acting as Commander and building new units, and all the other players on the team actually being those units. So from the point of view of the Commander it's an RTS, with a classic RTS top-down interface; whereas for the other players on the team it's a fast PvP style action RPG… It's a unique idea, but pretty clever. Excellent 3D graphics, and it's free to play. Definitely worth a go. To unlock the Premium mode costs only$9.99 online and after that you can play for free forever, which is a great deal for a top-quality pro game.
I think the main reason this game isn't better known is the fact that it's hard to fit it into a simple genre: you've got Warcraft III style RTS, Guild Wars style RPG PvP, and two asymmetric teams (Humans vs. Beasts) a la ET: Quake Wars all in the same game. I reckon this would be great at a LAN party, or while hanging out with a couple of friends, you really need good teamwork in this one to get the best out of it. Oh, and unlike many other games, it comes with its own map editor which runs on Linux too.
---
WINE RPGs / MMOs
Crossover Games come with full support for World of Warcraft, EVE Online, and Guild Wars. Guild Wars runs pretty much flawlessly, I've been playing that on Linux for years and it's rock solid – highly recommended. Lord of the Rings Online is another excellent MMO which until recently has been problematic, but
a solution is now available
.